at least for a week. I'm so happy cause it just doesn't seem like the holidays without cold weather. Everyone in really cold climates, stay warm and safe and when your completely sick of the snow, think of me and how excited I would be if I could be with you.

This is the freebie Ar
abesque Initial from Passione Ricamo. I'll make it into a lined fold-over (eventually, once I get my nerve up to cut on it!). I'm horrible (read sloppy) at finishing. I don't know the fabric name but it is not such a bright pink as my picture. The floss is Eterna Mini-Twist Silk in Cabarnet (med pink to maroon) and is perfect with this fabby. The fabric was a gift from Tammy of http://www.stabandstash.com/om/

I've also been working on my Morning Rose (HAED). Yo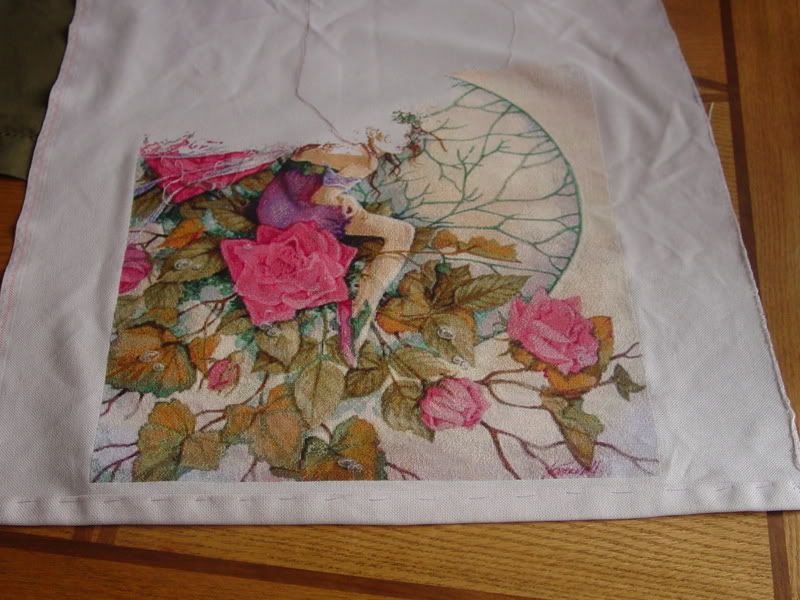 u can see the outline of her face. I'll keep plugging away on the background then probably move over to the left and work on her beautiful wings. I'll save her face for the last part, until I move up to the LAST ROW of pages. YAY

My friend Bonnie has me hooked on Mailart and she organized a mailart project for a group stitchers. I'm going to work on mine this week and hopefully finish it in December. I'll post a picture, but not tell who it's going to.

Have a wonderful weekend everyone and happy stitching - don't forget to take time to relax and stitch a little during the holiday season. It's such a busy, stressful time for most families - especially moms.