okay, this is one of those long, long winded things - sort of like being invited over for dinner, then having to sit through the slideshow from vacation....

We spent our spring break vacation at the Grand Canyon. We stayed 2 nights in Santa Fe, NM then 2 nights in Tusayan, AZ which is just 2 miles from the gate at the Grand Canyon. It's a 17.5 hour trip from our home and can you believe it - I didn't get any stitching in at all? We did so much chatting and looking at visitors guides and seeing what everyone wanted to do (ie: where to shop) - it was just a wonderful trip.

If you ever visit Santa Fe, I highly recommend
http://www.innofthegovernors.com/ they are right in the middle of the tourist/shopping/visitors plaza. This is a picture from our room.....The staff was the friendliest and most relaxed of any hotel I have ever stayed in. We had a kiva fireplace in our room with shuttered windows that opened out on the plaza square. We had spanish sangria and listened to the bag pipes play on St. Paddy's Day.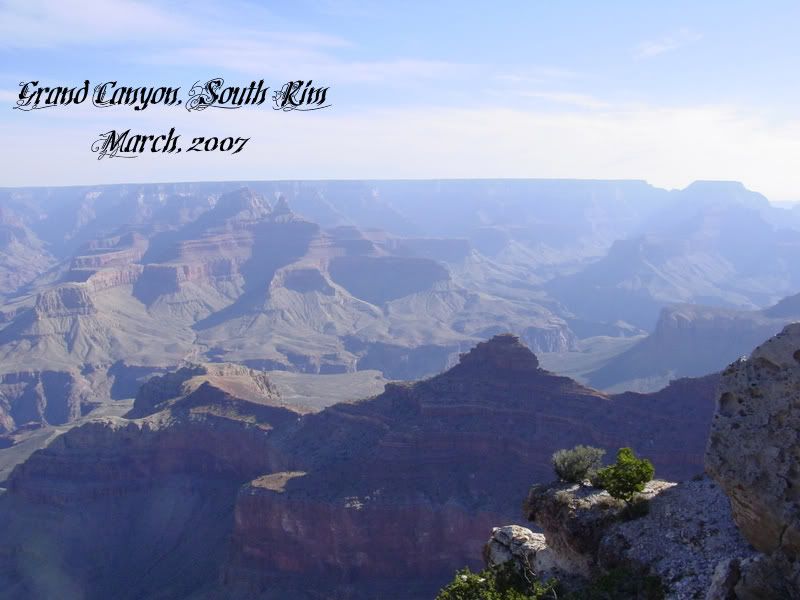 Okay, one more picture this is of the Grand Canyon from the South Rim, Mather's Point. It has to be seen and felt - it can not be explained. Just go, if you ever have the opportunity, just go and share the experience with your loved ones.

Okay, I promise to have new WIP's for my next update within the next few days.