DD is home safe and none the worse for wear. She has blossomed this past year and it's hard to imagine her first year of college is complete. She will be home with us for 6 weeks then off to Texas A&M at Corpus Christi for the month of July. She was selected for a slot in this summer's Governors Internship Program for high school Gifted & Talented kids and she'll be working on the campus during their summer program. It's like a free month long paid vacation. For those of you who are new readers, DH has a unique job and home unless he is actually working. So, he's been home and lot the past month and we've had a wonderful spring. I just know this summer is going to fly by.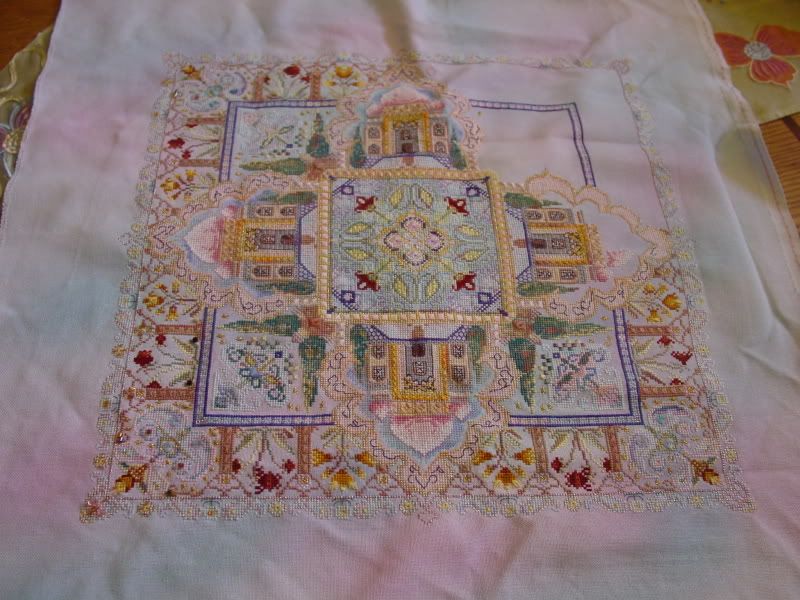 This is a picture of my Taj Mahal by Chatelaine. This is my first Chatelaine piece and I'm really enjoying working on it. I decided to stitch it with the recommended silks & beads and it's been a fun piece. While the fabric is gorgeous (it's Fairy Morn by Sugar Maple Fabrics), looking back I wish I had chosen something without so much color. The piece it's self has so much color I feel like the two are competing. Nevertheless, I'm pleased and will pick it up again soon.
I've stitched quite a bit since this photo last weekend. I finished the building on the right and the trees directly above, plus the first section of the flower/column in the border on the right.
I've picked up Dreamsleep and been stitching on her for the past few days. It's such a gorgeous piece to stitch - all those deep browns and beautiful pinks.
We are going to see the new Star Trak moving this afternoon. I've been really excited about it and just waiting for the release date to get here!
I've joined The Totally Useless SAL from the blog of
Dragon My Needle
. It looks to be like a lot of fun so check back on May 24 for an update and picture.
Have a wonderful weekend everyone.