This is an early birthday gift from my special friend Brandy. Gingher Designer Series scissors in the Ashley pattern (pink/purple flowers) and the most beautiful scissor fob (isn't that tea pot just adorable?) and thread picker in pinks and silver. I believe the fob and picker are from My Big Toe Designs (at least the box she packaged them in was). Brandy and I drink alot of tea so this was the perfect gift. You've spoiled me with such a beautiful gift. THANK YOU SWEETIE.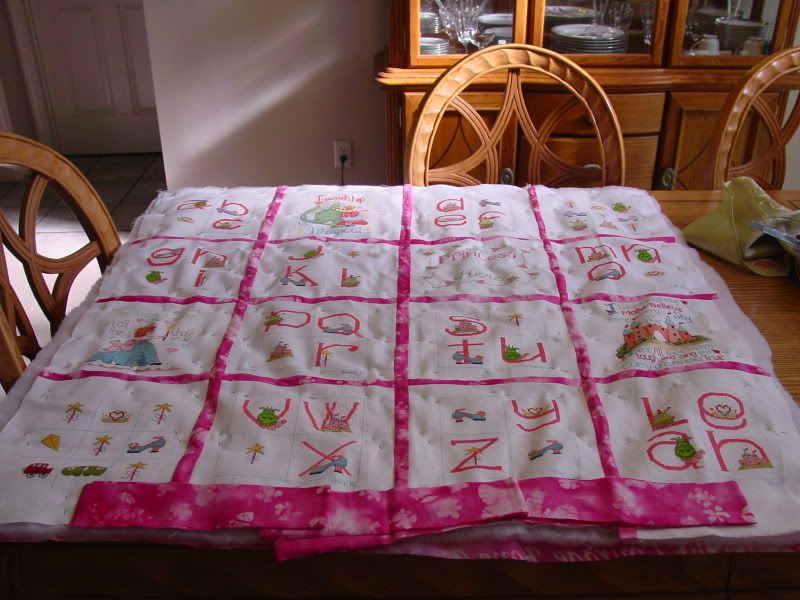 Here's a new picture of the progress on Leah's quilt. It's so pretty, I just know she's going to love it! It's all pinned and ready to machine quilt which I will start on right after dinner. I'm so in love with this I may have to make a visit to see Leah so I can snuggle with her in her quilt. Just to show how tenacious I can be, I stitched the left-hand column 5 times and ripped it out 4 to FINALLY get a straight seam. I don't know what was wrong with me but I'm glad it's over. hehe
Yoyo asked through the comments section about the charts used for Leah's quilt. All the pieces are from a leaflet published by Alma Lynne (but the designs are Gloria & Pat) and the name is 'For Every Little Princess (and Her Prince)'.
This summer has started off really busy around our house. Melanie is home from her first year of college. She had a great year but she's ready for a break and is glad to be home. Music to Mom's ears! So while I don't really feel like I have more craft projects going than normal, I do feel like it takes me longer to accomplish anything.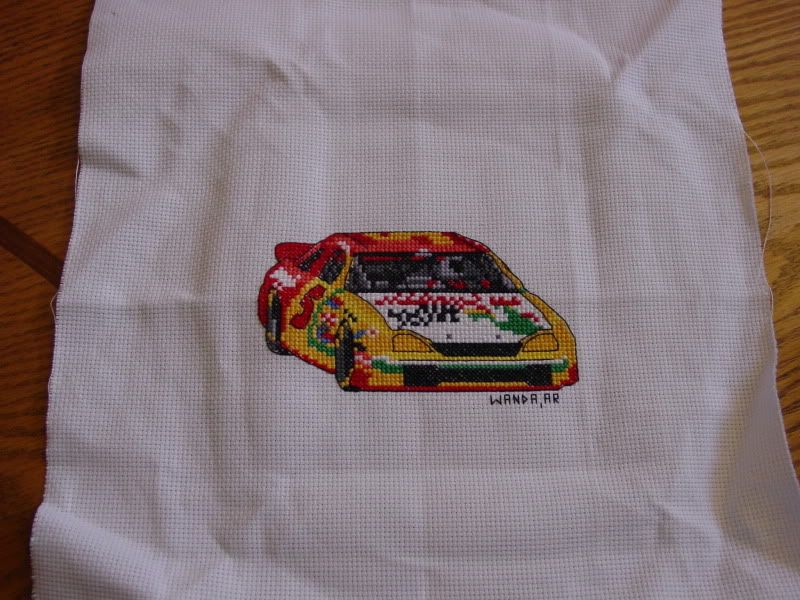 I started this Love Quilt square for Jamison back in April and just finished it today. Isn't the detail pretty, all those 1/4 stitches and backstitching were worth it. His quilt is going to be awesome!
My next square is a baby monkey for Travon. I'll get that started sometime next week. I want to finish Leah's quilt and get it in the mail then I have a small piece to finish stitching and make into a door hanger for a baby shower the first week of June.
Don't forget to check back on Sunday for the unveiling of The Totally Useless SAL aka The Mystery Ort Jar......happy stitching!